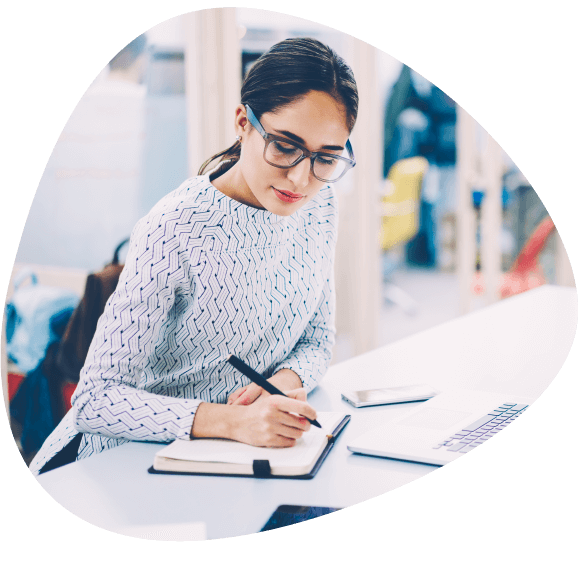 Non-core admin tasks taking up all of your time? Let our Personal Assistant services help you improve your work efficiency
Never enough hours in a day for you and your staff to get everything done? Repetitive admin tasks limiting your ability to achieve core business goals? Our virtual admin services for small businesses can help you win back the time you need to do what you do best and grow your business.
Our process always begins with a whole lot of listening. Let us know the sort of mundane tasks that are consuming you and your staff. Often these are things you don't like doing, shouldn't be doing, or just aren't that good at. Our administrative assistants love these jobs! Delegate them to your very own personal assistant and they'll knock them out of the park for you.
Our virtual administrative assistant services include:
Administrative Assistants

Personal Assistants 

Automation Implementation 

Client Care + Customer Service 

Competitive Research/Analysis

Corporate + Personal Assistance

Executive Assistance 

Correspondence

Calendar Management

CRM Management 

Data Entry

Database Creation

Excel  

Editing

Email Inbox Management, Organization + Cleanup

Google Analytics

Google Suite / Apps for Business

Market Research

Podcast Management

Post Creation
PowerPoint 

Blogs

Proofreading + Editing

Real Estate Agent Support

Rental Property Management

Reporting

Sales Funnel Development + Support

Powerpoint 

Travel & Accommodation 

Scheduling 

Facilitating Meetings and Events 

HR Support and Recruitment 

Team Support

Resources Management 

Transcription Services 

Content, Writing and Typography 

Microsoft Word

Zoom

 Active Campaign

Adobe Photoshop
Automation Set Up

Cloud back-up + Storage

CRM Integration

Custom Email Marketing Templates

DropBox

Form Development

Hosting Support

HTML

Information Technology Support

Google Forms

LeadPages

MailChimp

Managed Hosting

Microsoft Office: Word, Excel, Powerpoint

Search Engine Optimization (SEO)

Website Maintenance & Security Protocols

WordPress

WordPress Plug-ins

Admin Services for Small Business
Are you a business owner, an entrepreneur or planning a startup? Whichever one you nodded to, you've got a lot on your plate. Planning, strategising, managing and marketing your business is likely leaving you with little to no time to spend on administration work. With our expert admin support behind you, you'll be able to spend time in areas that add the most value to your business. Let our administrative assistants handle the admin services for your small business, and get on with what you do best.
Hiring a personal assistant can be risky business. An unsuccessful recruit could cost your business a lot of money, sometimes up to 6 figures. We've gone and changed all that. We offer businesses the same great outcomes with no risk, within budget. We hire the very best administrative assistants so that you can enjoy the maximum benefit without long term contracts and strings attached. Whatever your business goals, our administrative professionals are here to help your business grow.
When compared to hiring in house staff, our admin assistant services are more affordable, scalable and convenient. Increase your capability, output and flexibility with our admin services for small businesses. No need to recruit, train or pay ever increasing staff overheads.
Let's Get Started Today!
Please fill out your details and book an appointment with Riki-Lee, our Marketing Specialist. She is very friendly and always ready to share her knowledge with you, so feel free to ask anything.